Authentic Italian Food Gifts Everyone Will Love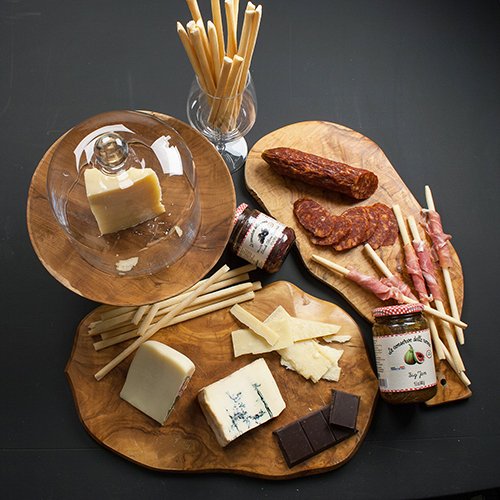 Gourmet Italian Food Gifts for Any Occasions!
Are you searching around for savory and authentic Italian food gifts to get for that housewarming event or picnic coming up?  Then you definitely want to take a look at the snack box, A Little Bit of Italy!  This snack box includes a wide variety of meats, cheeses, and even sweets including:
Pecorino Toscano: Authentic Pecorino Toscano made from sheep's milk in the Tuscany region.  This is a  hard cheese frequently used for salads or eaten alongside fresh vegetables or fruits.
Sopressata by Beretta: A type of pork salami popular in southern Italy.
Italian Chocolate Bar: The name says it all: one of the world's tastiest chocolates made right in Italy.
Grissini con Olio d'Olivia: Classic Italian breadsticks covered with olive oil.
Mountain Gorgonzola: The mountain variety of Gorgonzola blue cheese from Lombardy.  This variety is spreadable due to its semi-firm texture.
Grana Padano Stravecchio: A cheese similar to the all-familiar Parmigiano Reggiano but with a sweeter and fruity aftertaste.
Prosciutto di San Daniele by Principe: This thinly sliced ham is served uncooked for its amazing taste.  Before being sold, the prosciutto undergoes a very extensive aging process in Italy's San Daniele del Fruili microclimate lasting several months.
Jam by Conserve della Nonna: Jam made by one of Italy's leading producers of gourmet food.
Olive Tapenade: Finely chopped olives made into a paste and used as a spread for Antipasto.
Delivered Fresh to My Door?  Really?
Yep, the rumors are true: you can receive this snack box full of Italian food gifts straight to your doorstep because it ships in an insulated cooler to ensure freshness.  You can enjoy the many taste of several different regions of Italy right from the comfort of your own home!  Please click the yellow "Check it Out" button below to be taken to Amazon.com where you can learn more about this product!