Authentic and Tasty Spanish Snacks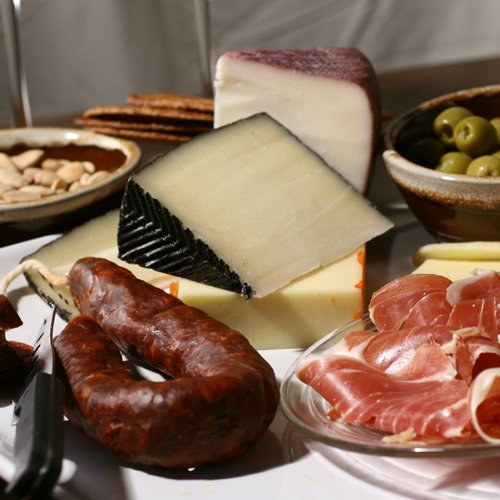 Show off your refined tastes in foreign meats, cheeses, and other treats with this Little Bit of Spain collection!  Sample a variety of delicious Spanish snacks including the following:
Jamon Serrano: This traditional Spanish ham is cured for over a year on average!
Murcia al Vino: This literally means "Drunken Goat".  It's no surprise this goat's cheese is bathed in wine.
Mahon cheese: This cow's milk cheese is a specialty from the Mahon islands of Spain and strongly resembles cheddar in taste and hardness.
Spanish Olives: These olives are hand harvested and cured with water and salt.
Marcona Almonds: These Spanish almonds are an essential ingredient in any Tapas course!
Chorizo by Palacios: This is a mild dry cured pork sausage flavored with sweet paprika.  It pairs great with stews, omelets, salads, etc.
Manchego: One of the most popular cheeses in Spain, this is made from pasteurized sheep's milk, aged over 3 months, and has a distinctive fruity and grassy flavor.
Tortas de Aciete: Resembling a cross between a cracker and cookie, these sweet biscuits are flavored with a variety of ingredients including olive oil, anise, almonds, etc.
So you want a taste of these Spanish snacks?
Good news, you don't have to travel all the way to Spain to enjoy these authentic gourmet Spanish snacks!  You can have them delivered straight to your door.  Not only is it convenient but you will also have the pleasure of enjoying these treats with your friends and family who probably won't be able to accompany you to Spain (not that they won't want to but that's another topic for another day.)  To ensure the freshness of your snacks, they will be packed in an insulated chest with dry ice.  To learn more, please head over to Amazon.com by clicking the button below!