Awesome and Hearty International Food Gift Baskets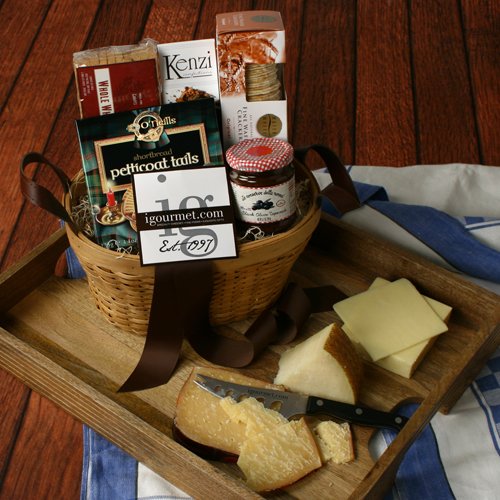 International Food Gift Baskets for Every Occasion!
Wanna impress your foodie friends at your next party?  Then you'll want the best international food gift baskets out there to create your perfect snack and cheese plates!  You no longer need to fuss over the details like the individual ingredients anymore now that you can get the International Connoisseur Gift Basket!  This gift basket contains all of the following cheeses and other goodies:
Chocolate Truffles by Kenzi: These premium French chocolate truffles are made with all natural ingredients and are great for all occasions, especially when paired with wine.
Beemster Gouda: The making of aged Gouda cheese is an 800 year old art in the Netherlands.  Enrich your taste buds with this nutty Gouda cheese from North Holland that's been aged for 5 months.
Wexford Mature Cheddar: Sharp Irish cheddar cheese that's been aged for at least a year.  Definitely try this with white wine or Irish ale!
Water Wheels: These light, crispy, yet flavorful Australian crackers are great to pair with cheeses and tapenades.
Manchego: Authentic Spanish Manchego cheese made with creamy sheep's milk and aged between 60 days to 2 years.
Mini Toasts: These Dutch crackers resemble tiny pieces of toast and can be eaten like crackers with cheese and salami or tossed onto soups and salads like a crouton.
Biscoffee Biscuits: As the name suggests, these spicy Italian biscuits are excellent to eat with coffee or tea.
Olive Tapenade by Conserve Della Nonna: This Italian olive Tapenade is excellent whether spread on bread, crackers, and cheeses or eaten straight out of the jar.
Shortbread Petticoat Tails: This simple Irish shortbread is made from a simple yet secret recipe that's been passed down countless generations.
As you can see in the photo, the gift basket is included as the default packaging which adds to the versatility if you're considering giving it away as a gift!
I'd Love to Learn More!
Please head over to Amazon.com to learn more about these International Food Gift Baskets by clicking the cheese-colored button below!