Cheddar Cheeses You're Likely Missing Out On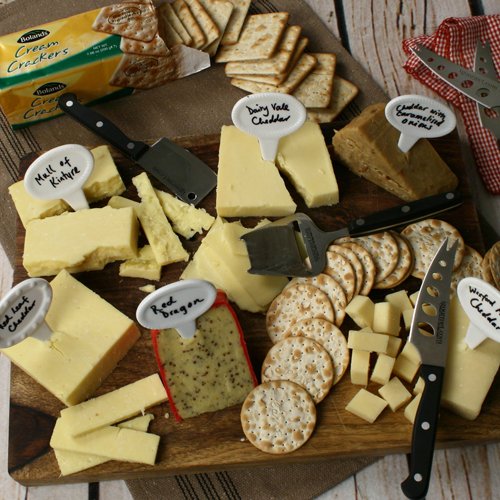 Cheddar is the most popular cheese in the world and it's no surprise it comes in a vast variety of styles.  This Cheddar Madness Assortment collection contains some of the most obscure yet delicious cheddar cheeses found around the world all in one convenient package.
The cheddar cheeses included are:
Mull of Kintyre Mature Scottish Cheddar:Made from a recipe originating from 1923, this cheddar is aged for at least 9 months and made from the milk of local Scottish cows.
Wexford Mature Cheddar: Made from the creamiest milk in Ireland, this cheddar still has a buttery taste after it's aged for over a year!
Dairy Vale Vintage Cheddar: This cheddar is made from farm fresh milk of the Dairy Vale Food Company of South Australia where BST is prohibited.
English Cheddar with Caramelized Onions: An addictive English cheddar that's flavored with caramelized onions and pairs well with sandwiches, hot dogs, and many other gourmet favorites!
Red Leaf Cheddar: This Canadian cheddar has a crumbly texture and sharp finish that is distinct from English cheddars.
Red Dragon: As the name implies, this is a spicy cheese.  This Welsh cheddar gets its mild spice from brown ale and mustard seeds.
No cheese assortment is complete without a few crackers:
Carr's Half-Box: World famous English water crackers that pair really well with the above cheddar cheeses!
Bolands Cream Crackers: A fluffy alternative to Carr's crackers, these Irish crackers are low in sodium and vegetarian-friendly.
What are you waiting for?  Check it out!
Just click the button below and you'll be directed to Amazon.com where you can learn more about this wonderful and lovely collection of unique cheddar cheeses from all over the world!