Essential Cheese and Charcuterie Assortment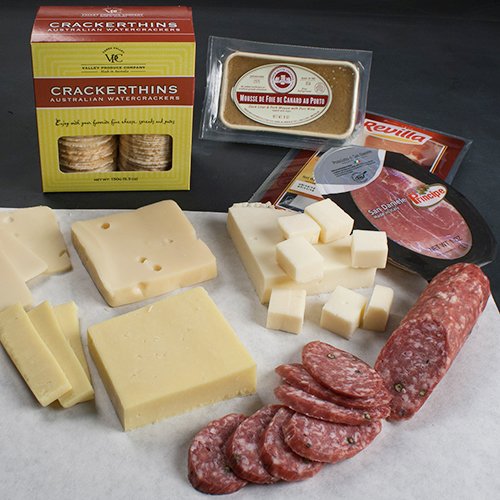 A World-Famous Cheese and Charcuterie Assortment!
The Essential Cheese and Charcuterie Assortment combines the richest and most flavorful European cheeses and cured meats for a delicious snack plate for your next party or feast!  If you've ever tried creating your own charcuterie plates from scratch, you'll soon discover the complex and intricate art that goes into finding not only the best artisan ingredients but also the right combinations and pairings that bring out the most powerful synergies between different flavors.  The Essential Cheese and Charcuterie Assortment has already done much of the hard work so you can focus on serving these wonderful meats and cheeses to your guests!  You'll find the following in this collection:
Spanish Serrano Ham: Also known as Mountain Ham, this popular Spanish ham is traditionally produced in the mountains since the days of Ancient Rome due to the right combination of humidity and relatively cold winters.  Nowadays, technology helps replicate the traditional mountain environment where this ham is produced but with even more precision.  It has a deeper flavor compared to Italian Prosciutto.
Mousse de Foie de Canard au Porto: Aka Duck Liver and Pork Mousse with Port Wine.  This all-natural Pâté has been hand-made with high quality ingredients since 1975.
Australian Crackerthins: No cheese and charcuterie plate is complete without some crackers.  These Australian watercrackers are amazing when paired with delicious cheeses, sausages, and hams.
Provolone Piccante: Provolone cheese comes in 2 varieties: Dolce (sweet) and Piccante (sharp/spicy).  This is the latter variety which is rarely found in the US and a great delicacy to surprise your guests.
Wexford Mature Irish Cheddar: This Irish cheddar cheese is aged for at least 12 months using the creamiest milk found in Ireland.
Dry Cured Salami by Busseto: A Californian air-dried Salami made with Old-World herbs and spices.
Sliced Italian Prosciutto di San Daniele: This is one of Italy's finest Prosciuttos, only possible to produce in the microclimate of San Daniele del Friuli where the cold air from the Alps and the hot air from the Adriatic Sea meet.  These hams are hung and aged for nearly a year in low temperature cells before the highest quality hams are sold as this Prosciutto.
Frantal Emmental: This is the French variety of Emmental cheese (commonly known as "Swiss Cheese" in most of the world.)  It's aged for at least 2 months, giving its signature sweet and nutty taste.
You're Making Me Hungry!
Then please head over to Amazon.com by clicking the "Check it Out" button below where you can learn more about this delicious cheese and charcuterie arrangement!