Foods for a Crowd (for parties, gatherings, etc.)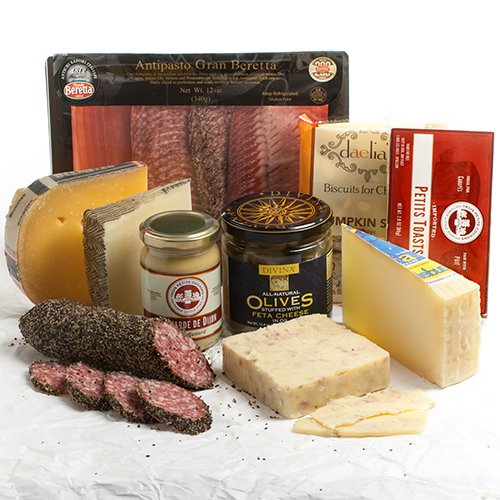 Fancy Foods for a Crowd!
Sick of the same old foods from big box stores in your town?  Wanna bring something memorable for your next big feast with your buddies without breaking the bank?  Then you'll definitely want to check out the Foods For A Crowd Collection!  There are dozens of unique meats, cheeses, and other food items from all around the world, enough for 10 guests to sample including:
Piave DOP: A hard Italian cheese with a slight tint of sweetness.  This is the "official" Piave cheese produced in the province of Belluno.
Mini Toasts:  The name says it all, they are miniature versions of toasts.  You can eat them like crackers with cheese and salami or toss them onto salads like croutons!
Daelias Biscuits for Cheese: Biscuits made from fresh natural ingredients that are meant to complement the flavors of your favorite cheeses!
Beemster Classic: Although popular in the US, this Gouda cheese is originally from Northern Holland.  Try it for its unique intense flavor with a sweet finish.
Antipasto Meat Tray by Fratelli Beretta: Each tray contains 4 ounces each of Italian salami, sliced prosciutto, and coppa ham.
Mustard: A classic, tasty and strong mustard!
Tickler Cheddar with Red Onions: Try this English delicacy: Cheddar with Red Onions – perfect for burgers, sandwiches, baked potatoes, etc.
Manchego: The all-popular Spanish sheep's milk cheese from the La Mancha region of Spain.
Stuffed Greek Olives: Large Halkidiki olives hand-picked from the Greek peninsula that bears the same name.  These are stuffed with classic ingredients including feta cheese, sweet peppers, garlic, and much more!
Busseto Dry Cured Salami: Californian air-dried salami that's seasoned to perfection.  Great addition to antipasto!
I'd Love Some for My Next Feast!
Then please head over to Amazon.com by clicking the yellow button below to learn more about the Foods for a Crowd Collection!