French Snacks That Everyone Should Try At Least Once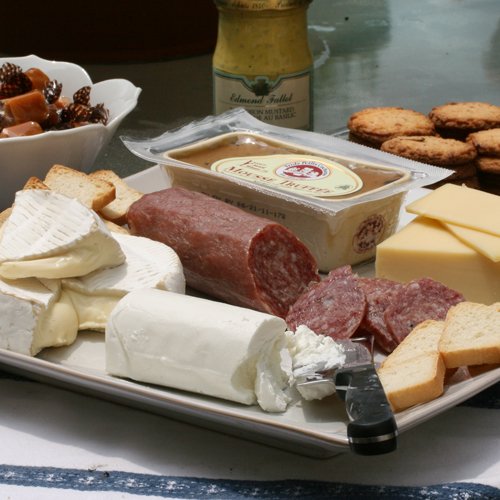 French snacks, particular their cheeses, have set the global standards for gourmet food for decades, possibly centuries!  Here is a collection of some of the finest French gourmet appetizers that you can give as a gift or serve at your upcoming parties or gatherings.  This "A Little Bit of France" collection includes the following items:
French Chevre: This world-famous French aged goat milk cheese has been perfected over many centuries.
Mousse Truffee: A chick and pork liver pate paired with wine and black truffles.
Mini Toasts: Tiny biscuits that serve as toasts, croutons, or crackers.  Very versatile, they can be added to salads and soups as well as topped with meats and cheeses from this collection.
Trouvillais by Biscuiterie de l'Abbaye:  These sweet and creamy cookies from Normandy are great as a desert item on your charcuterie plate.
Fleur de Sel Caramels: Gourmet soft candies from Normandy flavored with rock salt.
Saucisson Sec: Traditional pork dried sausage popular in France and eaten since the Roman times.
Edmond Fallot Mustard: Don't get hooked on this mustard; you'll never go back to plain old supermarket mustard!
Camembert: This soft and round cheese is similar to Brie and has been popular in Normandy for over 2 centuries!
Comte: A handmade artisan French cheese similar to but higher in quality than Gruyère.
Learn more about these French snacks!
If your mouth is watering after seeing the picture and reading about the goodies included in this collection above, then you definitely want to check it out further at Amazon.com by clicking the button below!