German Food Gifts: A Little Bit of Germany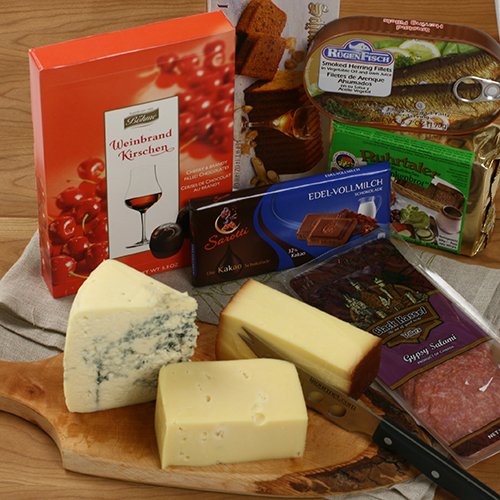 German Food Gifts For Your Next Special Event
Love German Sausages?  Chocolates?  Cheeses?  Then you'll want this collection of German food gifts for your next party or gathering!  Show your guests your wonderful taste in world cuisines with the "A Little Bit of Germany" collection!  This collection includes:
Paladin Bavarian Blue: A blue cheese created from a centuries-old recipe perfected from generation to generation in the Bavarian countryside.  It's got distinct blue veins and crumbles easily while retaining enough moisture to be sliceable as well.
Cherry and Brandy Filled Chocolates from Germany: Bittersweet chocolates filled with cherries and a drop of brandy.  The sharp and contrasting sweet, sour, and bitter flavors make this snack a real German delicacy!
Schlunder Liqueur Cake: Moist, delicious cake lightly drenched with liqueurs.
Sarotti Chocolate Bar: Premium German chocolates made in Berlin since 1881.
Allgau Emmental: The German version of the world famous cheese colloquially known as "Swiss cheese".  Ever since it originated in the Middle Ages around 1293, this is one of the most popular cheeses in the world with countless regional varieties.  This German version has smaller holes than the Swiss and French ones.
Piller's Black Kassel Salami: A lightly-smoked German Style Salami.
Traditional German Bread: German bread traditionally eaten with these cheeses.
Smoked Ammerlander: Ammerlander cheese that's mildly smoked, making it resemble a loaf of bread.  The exterior has quite a piquant flavor wrapped around a rich and creamy interior.
Stainless Steel Cheese Knife: If you've tried cutting cheeses with a regular knife, it can be quite an endeavor.  Get one of these and easily cut these cheeses and sausages to create your perfect charcuterie plate.
German Herring Fillets: These flavored herring fillets go really well with bread and crackers.
Mmmm, you're making me hungry!
You don't have to travel to Germany to savor these delicious German food gifts!  Come to Amazon.com to learn more by clicking the bright yellow button below!