Gourmet Food Gifts Luxury Treasure Chest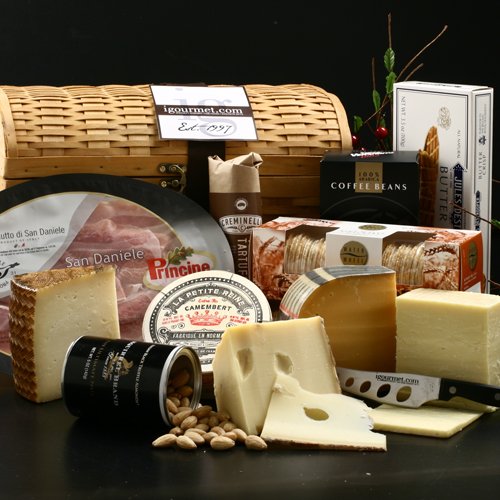 There's over 5 pounds of a wide variety of gourmet food gifts including cheeses, meats, and many other delicious goodies from all over Europe in this luxury treasure chest!  This is perfect for your next special event when a ton of friends and family members are gathered like a wedding, graduation party, holiday banquet, etc.  Here's the mouthwatering list of goodies included in this collection:
Beemster Classic Extra Aged Gouda: This gouda is aged for over 26 months to develop its deep undertones of butterscotch, whiskey, and pecan.
Camembert La Petite Reine: This premium Camembert cheese is made from a small dairy in Normandy and has a core that's firmer than the surrounding cream.
Italian Black Truffle Almonds: Black summer truffles are grounded and combined with sea salt to flavor sweet almonds.
Creme Brulee Almonds: Toasted California almonds with a layer of sweet cream and caramelized sugar.
Italian Roast Coffee: Fragrant imported Italian coffee with its distinct flavor and reduced caffeine content.
Collier's Cheddar: This cheddar was perfected by the coal miners in Wales generations ago.  Made from pasteurized cow's milk, it aged for 16 months and gained quite a bit of popularity among working class Britons.
Cave-Aged Emmental by Emmi: This Emmental cheese has a distinct and unique full-flavored taste compared to traditional Swiss Cheese due to its 12+ month aging process taking place in sandstone caves in the Canton of Lucerne.
Salami Tartufo by Creminelli: Artisan salami mixed with aromatic black truffles.  This art of making high quality salami dates far back in the 1600s from the Creminelli family.
Jules Destrooper Belgian Butter Thins: Traditional 19th Century Belgian wafer cookies that have their signature waffle pattern on a crispy surface.
Prosciutto di San Daniele by Principe: This delicacy is made possible by the microclimate of Italy's San Daniele del Friuli where cold Alpine air meets the steamy streams from the Adriatic Sea.  Only 15% of the prosciutto that is aged by exploiting this unique climate combination passes the final "test".
Manchego: This is one of the most famous Spanish cheeses.  Made from sheep's milk, it's got a buttery texture and a firm and compact texture.
Stroop Waffles: A waffle made with a syrup filling in the middle popular in the Netherlands, Switzerland, and Germany.
Australian Water Wheels: Thin Australian crackers that go well with many hams, meats, cheeses.
Chocolate and Bacon Candy Bar: An exotic and unique candy bar that combines smoky bacon and sweet milk chocolate.
igourmet.cm Signature Cheese Serving Knife: A knife designed specifically for slicing cheese by other fellow cheese lovers.
Bamboo Cheese Board: A durable yet convenient board for serving all of the meats and cheeses in this collection!
I wanna learn more about these gourmet food gifts!
Then please click the button below to be taken to Amazon.com where you'll find further details of this product.  Please note that these gourmet food gifts will be shipped in a container packed with dry ice and/or refrigerant gel packs to best ensure that your meats and cheeses will arrive without compromising their freshness.