Gourmet Party Food For Your Holidays and Game Day Celebrations!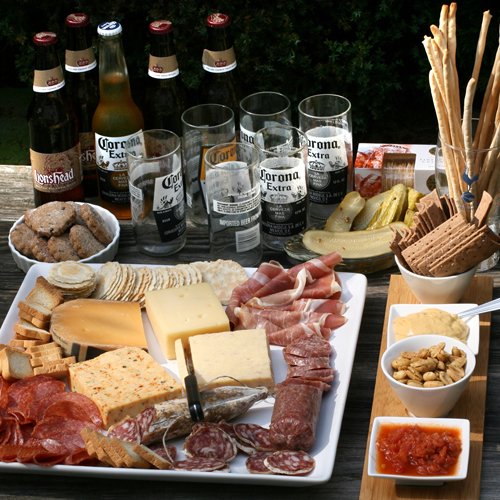 Whether you have the holidays coming up or a big game day like the Superbowl, you're gonna have lots of hungry people gathered at your place!  Are you up to the responsibility of being a good host and finding a diverse yet quality collection of foods to feed these hungry mouths?  Confused about the plethora of different cheeses, hams, sausages, salsas, or crackers?  If this sounds too overwhelming, then you'll definitely want this Game Day Party Planner: a collection of over 14 pounds of excellent party food!
Party Food: What's Included?
Frantal Emmental: The French version of Emmental, the best selling Swiss Cheese for nearly a millennium.  This one has a sweeter and buttery taste compared to Swiss Emmental and is produced near the ski resort town of Chamonix.
Tickler Cheddar: This is one of the most mature cheddar available, aged for around 18 months!
Saucisson Sec: This is the traditional French style of air-dried pork sausage.
Maple Bacon Mustard: A unique combination of sweet maple and smoky bacon flavors added to mustard.
Rustic Bakery Cookies: Delicious organic cookies from the Rustic Bakery.
Vino de Milo All Natural Salsa: All natural salsas that pair very well with chickens or nachos.
Beer Flats Crackers: These artisanal flatbread crackers are made using craft beer, similar to the traditional process of making bread using beer discovered thousands of years ago.
Mini Toasts: Like the name suggests, these are tiny pieces of bread that can be eaten like crackers.
Beemster Classic Extra Aged Gouda: This premium Dutch cheese is aged for over 26 months for its complex and deep taste that's reminiscent of whiskey and pecan.  It's made from pasteurized cow's milk and is lactose and gluten free!  (How could cheeses be lactose free, you might be wondering..)
Australian Water Wheels: A surprisingly thin cracker that you can use two of to make a mini sandwich with cheese and salami and still have it fit in your mouth!
Salami Barolo by Creminelli: This Italian salami derives its unique taste from the addition of Barlo red wine.  Choice cuts of meats are used and organic spices are carefully added to bring out the taste but not so much to overwhelm the original flavor of the salami.
English Cheddar with Caramelized Onions: Cheddar, one of the best known cheeses in the world, is now out with a new variety with caramelized onions infused right inside for an extra kick to your sandwiches, burgers, and crackers!
igourmet.com Signature Cheese Serving Knife: With so much cheese in this collection of party foods, you're gonna need some help slicing it. Why not use a specialized cheese knife?
Deli Pickles by Brooklyn Brine: Sink your teeth into these famous New York deli pickles.  After your done, remember to save the tasty brine for your salads, sandwiches, and other foods that could use a flavor boost!
Grissini with Parmigiano Reggiano DOP: Hand made bread sticks flavored with Parmigiano Reggiano, sea salt and olive oil.
Black Kassel Salami: This style of salami was originally brought to Canada by German immigrants generations ago and is still enjoyed today.
Artisan Peppercorn Blistered Virginia Peanuts:These peanuts are roasted in a specialized process known as Blistering and has highly aromatic peppercorn seasoning added.
Sliced Italian Prosciutto: Authentic Prosciutto di Parma that's packaged and sliced in Italy under strict supervision.
Note: the wine and other alcoholic beverages shown in the picture are not included.
Want to order this party platter?
Then please click through to Amazon.com where you can learn more about this collection of gourmet party food!  Note that it'll be shipped in an airtight container packed with dry ice to ensure the freshness of your food when it arrives at your doorstep!