Gourmet Party Snacks: Little Bit of Everything Collection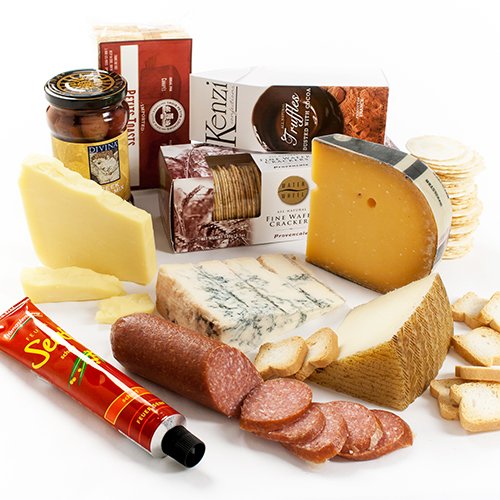 Gourmet Party Snacks: Cheeses, Salami, Chocolates, and More!
Impress your guests with your refined tastes of many different delicious snacks from all over the world!  This international collection of gourmet party snacks is definitely a must-have at your next feast or gathering!  There's quite a diverse selection of goodies including olives, cheeses, sausages, crackers, chocolates, etc.  More specifically:
Beemster Classic Extra Aged Gouda: This Gouda cheese is aged for 26 months instead of the standard 18 months to bring out its most intense flavors.
Hengstenberg Weisswurst Mustard: This German mustard contains a mixture of brown and yellow mustard seed with no preservatives.
Australian Water Wheel Crackers: Thin crackers that are perfect with cheeses and dips and will not easily leave your mouth dry.
Wexford Mature Cheddar: This sharp Irish cheddar keeps a surprisingly buttery flavor, considering that it's aged for over a year.
Mixed Greek Olives: A variety of prized Greek olives with a range of flavors including sharp, meaty, fruity, and soft.
Piller's Black Kassel Salami: German style salami made with traditional European meat processing techniques.
Mountain Gorgonzola: Legend says this cheese was born in northern Italy when cheesemakers found mold in their old forgotten cheeses but tasted them anyways.  Needless to say, they discovered a new recipe for blue cheese and never looked back!
French Chocolate Truffles by Kenzi: Excellent French chocolate truffles that melt in your mouth and taste wonderful when eaten with wine.
Manchego from Spain: This creamy cheese is one of the most popular in Spain, made from the milk of manchega sheep.
Mini Toasts from Holland: Tiny versions of toasts that can be eaten like crackers when paired with cheese and salami or tossed onto soups and salads as a crunchy topping.
Tell Me More!
Hungry?  Please click the bright yellow button below to be taken to Amazon.com where you can learn more about this collection of gourmet party snacks!