Meat and Cheese Gift Basket for Connoisseurs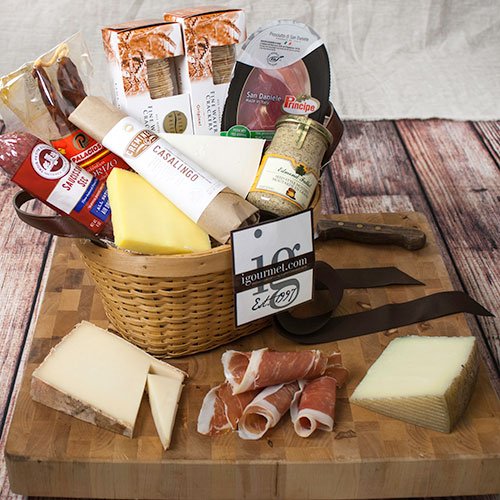 A Meat and Cheese Gift Basket fit for a King!
Wow, if your mouth isn't drooling after looking at this gift basket jam packed with the most delicious meats and cheeses then you ought to become a vegetarian!  (Just kidding.)  This gourmet meat and cheese gift basket includes the following goodies from all over the world:
Prosciutto di San Daniele by Principe: An amazing prosciutto found only in Italy's San Daniele del Friuli region where the cold air from the Alps and the warm Adriatic Sea air meet.
Saucisson Sec: A special variety of thick, dry-cured sausage from France containing 2/3 to 3/4 lean meat and the rest fat.
Piave: A hard cow's milk cheese made from the ancient traditions surrounding the Piave river in Italy.
Manchego: The original and authentic variety of Manchego cheese made from sheep's milk in the La Mancha region of Spain.
Casalingo Salami by Creminelli: A hand crafted salami made by the Creminelli family in Italy since the 1600s that relies on a simple curing process instead of heavy spices to flavor the pork.
Serrano Ham: A thinly sliced dry-cured ham made in the mountains of Spain.
Goat Gouda: A variety of the popular Dutch cheese made from goat milk.
Dijon Mustard: The famous high quality French mustard produced since the 1800s that goes along very well with meats and cheeses.
Australian Water Wheel Crackers: Crispy waffle-like crackers from Victoria, Australia.  These thin crackers pair well with cheeses and spreads without bogging you down.
Chorizo by Palacios: Authentic chorizo cured in Spain unlike the imitation versions found in other countries.  This delicacy was only allowed to be exported from the La Rioja region of Spain starting in the late 1990s.
Yum!  I want this!
Your Connoisseur's Meat and Cheese Gift Basket will be shipped in a reusable insulated cooler to ensure its freshness right to your doorstep.  For details, please click the "Check it Out" below and you'll be taken to Amazon.com!