Meat and Cheese Tray For Your Holiday Feasting!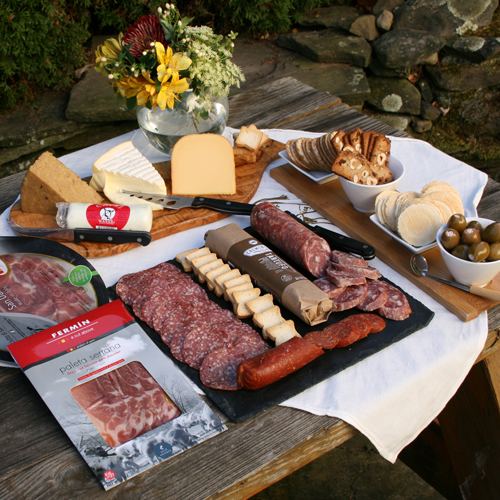 Sample the most delicious flavors around the world with this Grand Assortment Meat and Cheese tray!  5 pounds of mouth watering gourmet artisan sausages, crackers, hams, cheeses, and much more are included in this collection:
Fromager d'Affinois:A French double-cream soft cheese similar to Brie, but unlike Brie, water is removed in the beginning through a process called ultrafiltration which concentrates all the other components of the milk.  This also helps speed up the cheese making process down to 2 weeks as opposed to 8 weeks for Brie.
Carr's Water Crackers:These thin and crispy crackers have been a favorite among the English for over a century.
Daelias Biscuits for Cheese: These biscuits are infused with various fruits and nuts, including almond raisin, hazelnut fig, or pumpkin seed and rye, which really bring out the flavor of the cheese you'll eat alongside these.
Australian Water Wheels: These crackers are extremely thin yet quite flavorful.  You can make a cracker sandwich out of two of these and a piece of cheese and meat and have it all easily fit in your mouth!
Mini Toast Crackers: These miniature pieces of bread can be eaten as crackers or croutons depending on the dish or appetizer you're serving!
Sopressata by Beretta: This American salami is based off of a recipe traditionally used by Italian peasants in the countryside for many centuries.
Jamon Serrano: This popular traditional Spanish ham is prepared over a period of 6 to 18 months.  It has a sweet and nutty flavor.
Stuffed Greek Olives: These canned Greek olives are stuffed with a variety of flavors including garlic, citrus, feta cheese, jalapeno pepper, and much more!
Roomkaas Double Cream Gouda: This Dutch cheese is like a cross between traditional Gouda and cream cheese due to its higher than normal fat content.  In fact, "Roomkaas" means "cream cheese" in Dutch.  It melts easily which makes it ideal for cheese sauces and for toppings on foods like baked potatoes and hot apple pie.
Prosciutto di San Daniele by Principe: The cold air from the Alps and the subtropical air from the Adriatic Sea meet at Italy's San Daniele del Friuli.  This particular micro-climate is quite ideal for aging this particular style of Prosciutto which is aged for over half a year through a very rigorous process.
Wasabi Capri: This goat cheese is seasoned with real Wasabi paste and some chives which gives it quite a hot kick!
English Cheddar with Caramelized Onions: This is an interesting spin on a English cheese we all love around the world.  Try it on sandwiches, hot dogs, and just about anything you add cheddar cheese to but with an extra punch from the caramelized onions.
Molinari Pepperoni: This beef and pork salami is over 100 years old and has been a popular pizza topping for many years.
Salami Tartufo by Creminelli: This salami is seasoned with Black Summer Truffles that grow in Northern Italy in the Spring and early Fall months.  Special trained dogs are utilized to find these hidden mushrooms which are added to choice cuts of meat to make this salami.
Milano Salami by Beretta:This salami has been traditionally produced for many centuries in Northern Italy and is cry cured and seasoned with sea salt and red wine.
You want this meat and cheese tray?
Then please head over to Amazon.com by clicking the button below!  It can be shipped to your doorstep fresh using an insulated container lined with dry ice!