Portable Bamboo Cheese Board and Set for Travel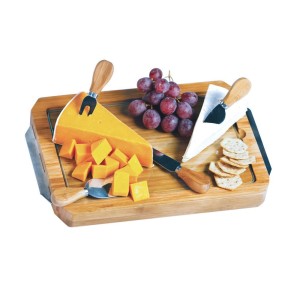 This Bamboo Cheese Board is Very Convenient When On the Go!
If you travel or go on picnics frequently, then you'll want this bamboo cheese board!  The Harmonia Cheese Board from Picnic Plus is specifically designed for serving your favorite cheeses, sausages, hams, and other delicious treats while on the go.  There are 4 stainless steel cheese cutting and serving tools that are designed to tackle even the hardest cheeses.  While this bamboo board is specifically designed for cutting and serving cheese, a tempered glass board is also included which is convenient if you want to cut raw meats, fish, poultry, etc.  More on that later.
Most amazing part?  It weighs in at around 2 pounds with the following dimensions: 15" x 10" x 1.25".  So even if you're going on a backpacking or hiking trip, this set shouldn't be much of a burden to bring along!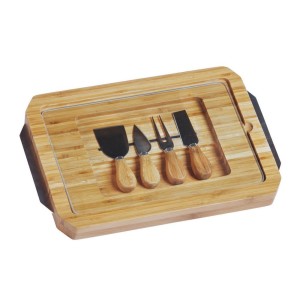 Pros and Cons of Tempered Glass vs Bamboo?
There's also a removable tempered glass board included that attaches to the bamboo cheese board.  Tempered glass has the advantage that it's easier to clean and disinfect in a dishwasher to keep food-borne illness causing bacteria at bay.  In addition, tempered glass doesn't scratch as easily as bamboo which is an advantage because bacteria can end up hiding in those knife scratches.  However, tempered glass also tends to increase the wear and tear on your knives due to its tough texture.  Personally, I'd avoid using the cheese knives on the tempered glass board and instead use it to cut raw meats using a cheaper knife while leaving the bamboo board for cutting cheeses, sausages, hams, fruits, etc.
Where to Learn More?
Overall, this is a pretty solid (no pun intended) yet versatile portable cheese board.  If you'd like to learn more about its details, please click the button below where you'll be taken to Amazon.com.  Just remember to pack this in your checked luggage when you're flying; you don't want the TSA confiscating these quality cheese knives from your carry-on baggage and depriving you from fully enjoying excellent cheese on your trip!