Sausage and Cheese Care Package for Soldiers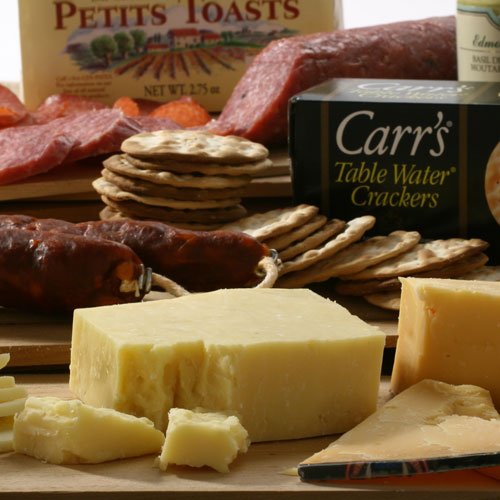 Armed Forces Collection: Care Package for Soldiers
This Charcuterie Care Package for Soldiers brings together everyone's favorite sausages and cheeses from all over the world!  Due to the rich variety of snacks plus the hardy packaging that keeps the goods fresh despite unpredictable shipping times, soldiers will love this package!  Included in the package are the following gourmet snacks:
Beemster Classic Extra Aged Gouda:  Aged Gouda cheese has an 800 year old tradition in the Netherlands.  This variety from Beemster is known for its nutty caramel-like flavor due to its 18 month aging process.
Chorizo by Palacios: If you love the imitation Chorizos in your home country, then you'll be blown away by this authentic Spanish Chorizo made using a traditional process void of preservatives or artificial colors.
Mini Toasts: A crouton-like snack from Holland that can be eaten as a cracker or topped onto salads.
Piller's Black Kassel German-Style Salami: Traditional salami made in German villages for centuries that's dry cured and made with pork and natural spices.
Carrs Half-Box: Crackers that are a perfect addition to cheeses and sausages.
Hengstenberg Weisswurst Mustard: Preservative-free German mustard made using both yellow and brown mustard seed.
Wexford Mature Cheddar: This Irish Cheddar is made from the milk of the Friesian cows of County Wexford and aged for about a year just south of Dublin.  As a result, the cheese keeps a unique buttery flavor once it leaves the aging rooms.
Kerrygold Dubliner: This Irish cheese is similar to Cheddar due to its sharpness and hardness but has a wider range of flavors that are sweet, sharp, and nutty.
Milano Salami (Sliced): Traditional Italian salami from the countryside surrounding Milan that's dry cured and made using wine, sea salt, and pork.
Are You Craving for This Package?
Then please click the cheddar colored button below to be taken to Amazon.com where you can learn more!  This is the PERFECT gift for your parent, child, spouse, etc. who is deployed overseas.  Don't worry about spoilage – since this package was made with the active duty military personnel in mind, it utilizes an insulated container which will keep the contents fresh for a long time!