Celebration Box with Smoked Cheese and Meats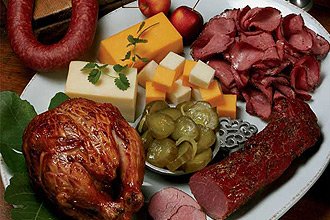 Celebration Box of Mouth Watering Smoked Goodies
Got a picnic coming up?  Craving authentic Texan smoked meats even though you don't live anywhere close?  Then you'll want to check out New Braunfels Smokehouse's Celebration Box!  Included in this gift box are the following:
Golden Smoked Chicken
Bread and Butter Pickles
Cheddar Jalapeno Summer Sausage
Sweet and Spicy Mustard
Smoked Pork Tenderloin
Smoked Cheddar Cheese
Smoked Monterrey Jack Cheese
Sliced Pastrami
Bismarkian Sausage Ring
This snackbox has now been updated to be better than ever!  Most notably, Carr's Water Crackers have been added which makes a great pairing with your smoked meats and cheeses.
Hungry?  Get it Delivered Fresh to Your Doorstep!
Please click the yellow button below to learn more about the Celebration Box at Amazon.com.  Note that it'll be shipped in a frozen package and may arrive in a day or two at your doorstep thawed.  Your meats and cheeses should good for 3-5 days in that package.