Best French Appetizers for Your Cocktail Hour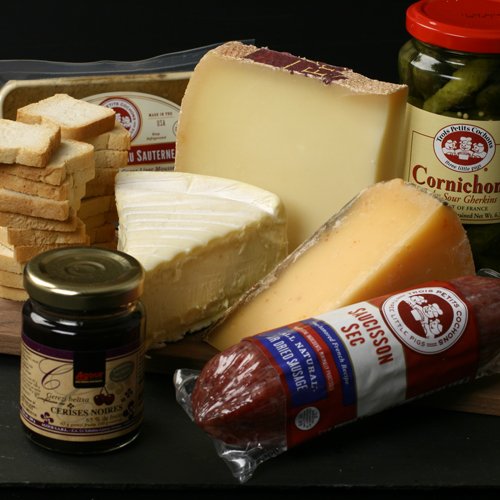 Famous French Appetizers
Traditionally, the French will get together before meals to share wine and small treats.  This practice is known as the "Apéritif" which was added to the UNESCO's Intangible Cultural Heritage of Humanity list in 2010.  The French Cocktail Hour (Apéritif à la Française) has been promoting this tradition around the world for many years as of this writing.  Here's an assortment of French Appetizers that'll you can serve your family or guests when you host your next Apéritif:
French Cornichons in White Wine Vinegar: These baby cucumbers are pickled in white wine vinegar with onions and spices added.  You'll definitely want to include these when making a sandwich from the cheeses and meats here.
Agour Cheese: This sheep's milk cheese was nominated as the world's best cheese in 2006.  It's got a wide range of flavors from the dominant buttery quality to the undertones of herbs, fruits, and nuts.
Mini Toasts:  These delicious little toasts have such a wide variety of uses!  Need some croutons for your salad?  Check!  Want something to pair with your sliced sausage and cheese besides crackers?  Check!  Want to add something crunchy to your soup?  Check!  Want something simple to snack on while you watch TV or surf the web?  Check!
Fromager d'Affinois: This pasteurized cow's milk cheese resembles Brie but undergoes an additional process called ultrafiltration.  Effectively, it removes water from the pasteurized milk which accelerates the cheese making process from 8 weeks (for Brie) to around 2 weeks.  As a result, this cheese retains more nutrients and flavor, not to mention an edible rind outside.
Saucisson Sec: This air-dried pork sausage comes from the French Pyrenees and is seasoned with garlic and black peppercorn.  It's excellent when paired with some French baguette or Mini Toasts.
Comté: This is one of the most popular French cheeses and is similar to Gruyère.  This variety is handmade using unpasteurized cow's milk and aged for 6 months to develop  a relatively hard texture, strong flavors, and a slightly sweet taste.
Agour Basque Dark Cherry Jam: Also made by the same family farm that produces the Agour cheese, this thick and rich spread of dark cherries pair very well with a variety of cheeses.
Mousse Royale au Sauternes: This is a mousse made from a combination of goose, pork, and duck livers.  Mushrooms and spices as well as wine are added to create its rich and delicate flavor.
Can't Travel to Paris?  You Can Still Enjoy Great French Appetizers!
You can still get this collection of gourmet French Appetizers delivered to your doorstep in a refrigerated shipping chest!  Please click the button below to be taken to Amazon.com where you can learn more about this product.