French Cheese for the Pickiest Connoisseur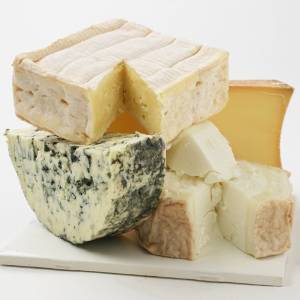 Yes, France may be home to hundreds of varieties of cheeses as Charles de Gaulle implied over half a century ago in his famous quote:
Comment voulez-vous gouverner un pays qui a deux cent quarante-six variétés de fromage?
Translation:
How can you govern a country which has two hundred and forty-six varieties of cheese?
France is well-known not only for its sheer variety of cheeses as de Gaulle implied in his famous quote but also for some of the highest quality cheeses in the world as well.  This collection features 4 high quality cheeses fit for a Connoisseur:
Pont L'Eveque: One the the oldest and most popular since the 13th century, this French cheese has a washed rind enclosing a creamy center that has a strong aroma.
Comte Reserve:  Comté Reserve is made from unpasteurized cow's milk and aged for a minimum of 1 year in the French and Swiss Alps.  When producing Comté cheese, only the highest quality rounds are hand selected to receive the distinguished label of Comté Reserve.  (Those at the mid-range receive the regular Comté label and those at the bottom are labeled as Gruyere.)
Buche de Chevre: This goat cheese is aged for 2 months and develops a hard crust that gradually increases in creaminess towards the center.  This translates into a variety of different textures and flavors in each bite which goes really well with French bread or red wine.
Fourme d'Ambert: This is one of the oldest Bleu cheeses still in production today, dating back from the Roman times.  It's made from raw cow's milk and aged for at least 2 months, giving it a strong creamy flavor.
For More Info on this French Cheese Collection
You'll find more on these 4 imported French Cheeses on Amazon.com including reviews and ordering information.  Please note that these cheeses will ship in an insulated container and are guaranteed to stay fresh for many days.  Just click the yellow button below and you'll be taken there in no time!