Party Assortment – Cocktail Party Platter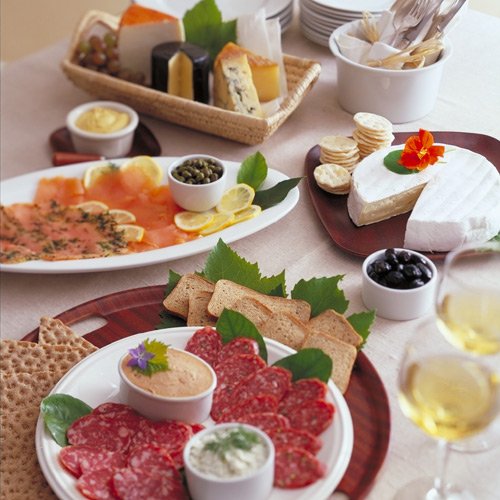 Cocktail Party Platter for 25
Take the headache out of planning a cocktail party with this Cocktail Party Platter that serves over 25 people with 19 pounds of delicious cheeses, sausages, etc!  With a wide variety of gourmet snacks, there's bound to be something that every single person will enjoy.  This elegant combination of cocktail food items includes the following:
Mountain Gorgonzola: Legend that says a few forgotten wheels of Cheese in Italy's Lombardy region turned moldy one day.  A few brave locals tried the moldy cheese and were completely blown away!  Henceforth, they decided to let their cheese go moldy on purpose and thus, the Mountain Gorgonzola was born.  This blue cheese is an excellent ingredient for salads as well as topping for many fruits like figs.
English Farmhouse Cheddar: If you love ordinary Cheddar cheese, then you'll really savor this gourmet cheese which tastes nothing like its mass-produced cousins!
French Triple Crème: A rich and creamy cheese from Chalacey, France.
Malagon with Rosemary: Made from 100% real sheep's milk in La Mancha where sheep thrive on the rocky terrain and graze on the numerous wild herbs.  The cheese is aged with rosemary pressed in, creating a vibrant flavor.
Extra Aged Gouda: This Dutch cheese is aged for 26 months instead of the standard 18 months, bringing out additional unique flavors like butterscotch, whiskey, and pecan.
Spanish Marcona Almonds: Native to Spain, these almonds have an unrivaled sweet and delicate flavor that pairs wonderfully with goat cheeses.
Bremner Wafers: The Bremners have made these finest wafers for cheese, spreads, jams, etc. for over 5 generations!
Perigord Pate: One of Manhattan's finest pâtés made with turkey, duck, chick, cream and truffles.
Mini Toasts: These crunchy little toasts from the Netherlands make great salad or soup toppings.  They also go well with cheese, salami, jam, honey, and many other toppings!
You'll find a more comprehensive listing of all the delicious food items of this party platter by clicking the button below!
I Wanna Check It Out!
Then please head over to Amazon.com by clicking the bright yellow button below!